Outline of voluntary control
In this measure of voluntary control, the member is obliged to assure that the strength of the disturbance from his MME(Multimedia Equipment) products is contained below VCCI specified level before distributing them in Japan. This conformity verification test shall be executed at the registered measurement facility to VCCI. Before the shipment of his product, the member shall file conformity verification report to VCCI based on the MME Class of the product in question and affix the VCCI mark of the Class on the product and VCCI Alarm statement in the instruction manual. VCCI conducts market sampling test for the registered products to confirm that the product conform to VCCI rules.
The whole scheme of voluntary control is indicated in the following chart.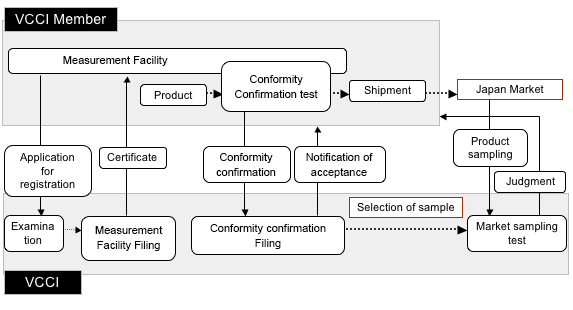 Categorization of ITE
ITE is divided into two categories, denoted Class B ITE and Class A ITE.
Class B ITE
Class B ITE is equipment that satisfies the Class B ITE disturbance limits. It is intended primarily for use in the domestic environment and may include:
Equipment, with no fixed place of use; for example, portable equipment powered by built-in batteries.
Telecommunication terminal equipment powered from a telecommunication network.
A personal computer or portable word processor, as well as peripheral equipment connected to it
Facsimile equipment
Note: A domestic environment is an environment where broadcast radio and television receivers might be used within a distance of 10 m from the ITE concerned, in other words, a residential environment.
Class A ITE
Class A ITE is ecuipment that satisfies the Class A ITE disturbance limits but not the Class B ITE disturbance limits.
Confirmation of Compliance
The member manufacturers should verify that their ITE products conform to the permissible tolerance of the technical requirements established by the Council. The member manufacturers are required to verify technical requirement conformity and submit a report as indicated below.
Confirmation of Compliance with Technical Standards
The member manufacturers should perform conformity verification tests on their ITE products to confirm that their ITE products meet the technical requirements established by the Council. Conformity verification tests shall be performed at measurement facilities, which are registered at VCCI.
Registration of Compliance
The member manufacturers performing conformity verification testing of their ITE product(s) should present a "Conformity Verification Report," using the specified form to the Council for its approval prior to shipment of the ITE products.
Note: It takes about one week to issue an electrical acceptance of "Comformity Verification Report".
Labeling Units
ITE for which the member manufacturer has filed a conformity verification report shall designate the fact using a label for Class A ITE and a mark/logo for Class B ITE.
The Council has specifications concerning the use of the label and mark/logo in catalogs and instruction manuals. Member manufacturers should place the labels and marks for their respective ITE in a manner which is easily visible and in accordance to these specifications.
(1)Class A ITE shall have the following message and/or a VCCI mark on a visible location on each product.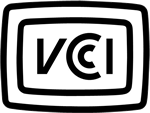 Translation: This is a Class A product. In a domestic environment this product may cause radio inferference in which case the user may be required to take corrective actions.
(2)Registered Class B ITE shall have the following label in a visible location on each product: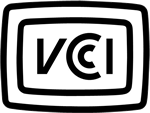 Scope of Application
The Voluntary Control applies to the Information Technology Equipment (ITE) to be shipped for the domestic market in Japan.
Definition of ITE
ITE refers to equipment with a rated power supply voltage not exceeding 600V, which has a primary function of one or a combination of the following functions-entry ,storage, display, retrieval, transmission, processing, switching or control of data and of telecommunication messages - and which may be equipped with one or more terminal ports typically operated for information transfer. However, these regulations shall not apply to the following types of equipment:
Equipment which is subject to, or under review of being subject to other standards or laws equivalent in objective to these regulations in Japan, even if it fits under the definition above for ITE. This includes all radio equipment with primary functions of radio transmission and reception as stipulated in Radio Law or in-vehicle ITEs, and equipment stipulated in the Electric Appliance and Material Control Law, such as household electrical appliances, radio and television broadcast receivers.
ITE in telecommunication centers (ITE only used in buildings controlled by telecommunication carriers).
Control units designed to be used in industrial plants where the data processing function is a secondary function.
Testing and measuring instruments designed to be used for industrial, scientific, and medical purposes where the data processing function is a secondary purpose (ISM equipment).
ITE whose power consumption is 6 nW or less.
If you cannot identify your equipment is in the VCCI's scope or not, please see FAQ.